Home Rituals will take place November 12th – 22nd, 2020, Monday – Sunday 10am-7pm
Location: 49 Hollywood Road, Central, Hong Kong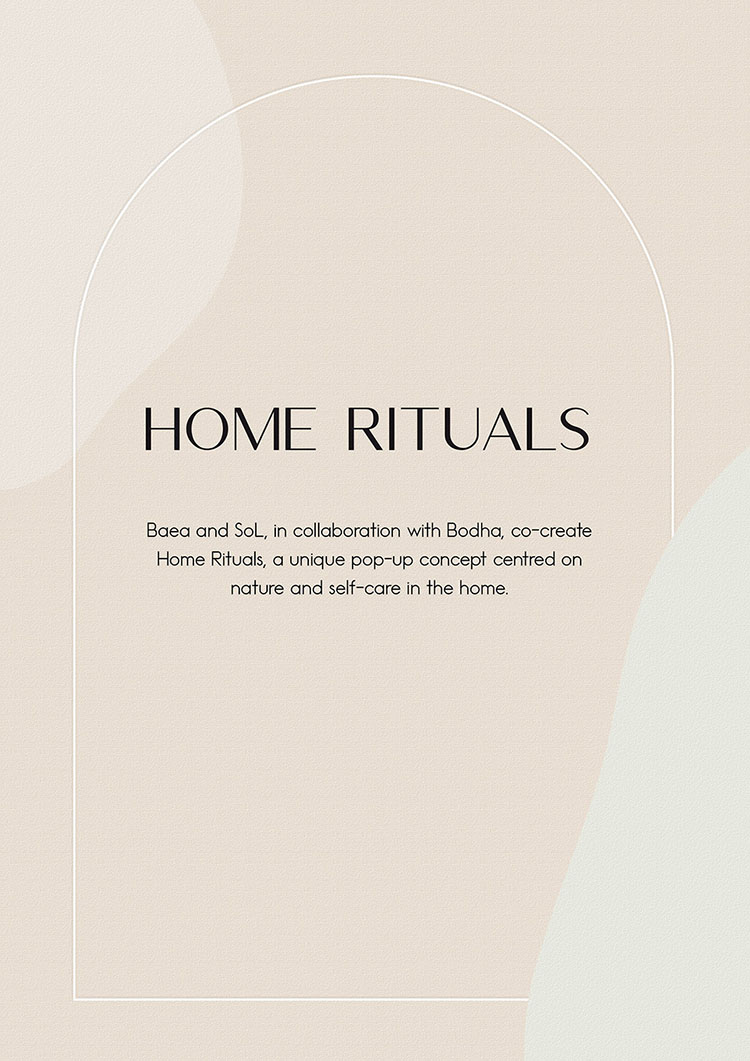 Join us at an innovative pop-up concept celebrating a shared ethos of bringing the calm of nature and self-care awareness into the home. Home Rituals will run for 11 days from November 12th to 22nd, 2020 in the form of a contemporary home setting, complete with sleeping, resting and living spaces. In addition to showcasing the brands' wares, there will be in-person workshops sharing mindful rituals for the home and evening events featuring intimate conversations with leaders across Hong Kong's design, sustainability and entrepreneurship sectors.
#homeritualshk
Baea
Let Nature In with Baea and our contemporary bedding, objects and textiles.
We find forms in the natural world that inspire our designs and bring calm to the home. In return, we seek to protect nature through the materials and processes we choose: organic, biodegradable, sustainable.
Baea.com | @baeahome
Bodha
Creating a new world of therapeutic perfumery for the self and the home.
Nurturing a sense of connection to yourself is the most fundamental thing you can do to be happy. Bringing together the art of perfume & the science of aromatherapy we want to help you come back to yourself through the power of scent.
Bodha.com | @bodha | At-liberty.com | @atlibertystudio
Sol
SoL is a direct-to-consumer SelfWear™ brand that addresses the universal need for self-care through loungewear and sleepwear. SoL is a call to action to reprioritise wellness and our own self-sustainability – starting with good rest and great sleep. Our mission is simple: to inspire you to discover the best version of yourself in body, mind and soul through SelfWear, a new category of apparel that puts the wearer first.
Solthelabel.co | @sol_thelabel